Tuesday January 26th, 2021
Examples of Referral Card Ideas and Quotes That Work
Why not use your business card as a referral card, too? Here are some samples of great referral card ideas to help you promote your referral program.
Referral cards are incredibly popular. In fact, you've probably received or given out a referral card at some point yourself. By including all the essential referral program information, these cards provide a simple and effective way to refer others to your business. Below, we break down different types of referral cards and share tips for using referral cards to grow any business.
Types of referral cards
There are several types of referral cards that could work for your business. These are:
1. Business cards as referral cards
Most business cards are used to help a customer remember a store, a phone number, an address, or even an appointment. But, business cards can also double as a referral card, too. Say, you're venting to a friend about a problem you're having or something you need. They hand you a business card. Not only that, they also share all the reasons why you should try that business or brand. Now, that's organic and free advertising.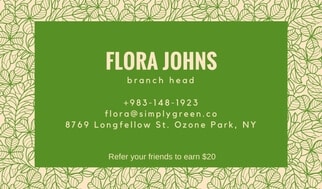 "Refer your friends to earn $20"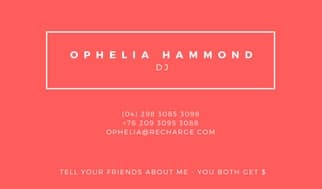 "Tell your friends about me – you both get $"
Many businesses have started adding referral program information to their business cards. This helps maximize their word-of-mouth marketing – customers are more than happy to tell others about a stand-out product or service, and that includes giving out your business cards.
If you have a referral program, it's important to integrate the program into your marketing channels. Similar to any product or service you sell, a referral program needs to be promoted.
One of the easiest ways to promote a referral program is to mention it in relevant business copy. Your program information should be on your website, email newsletters, social media profiles, campaigns, and even on your business card. The more a referral program is seen, the more likely it will succeed.
Using your business card to promote your referral program can be a quick way to gain new leads. Not only are you advertising the program to your customers, you're also providing customers with something they can give to their friends. After all, someone is much more likely to remember a referred business if they have something tangible in hand.
For example, say you're a car salesman who just gave your business card to a customer. That customer has a quick reference to your name and details, which means you'll be first in mind whenever they go car shopping. And if any of their friends are in the market for a car, they'll probably refer them to you, as well.
Mailing out referral cards is also a great way to engage with your market. Whenever you send physical mail or packages to customers, throw in one or two referral cards into the delivery. Be sure to include basic program details, benefits, and and reward incentives.
Want to know which referral reward delivers the most results?
2. Employee referral forms
A company's employees can be a surprisingly good source of referrals, too. Remember that your employees have insider info about your product and services. As a result, they're uniquely equipped to explain your business to a prospective customer, including all the reasons why your company is better than the competition. To optimize your employee referrals, design forms specially for your employees to distribute among their network.
3. Postcards
Postcards are an interesting approach to marketing. They also offer a lot of opportunities – you can print out postcards and hand them out to customers, or you can ask referral program members to send a hand-written postcard to their friends. The benefit of postcards is they offer a personalized experience, which makes the members and referrals more likely to engage in your program.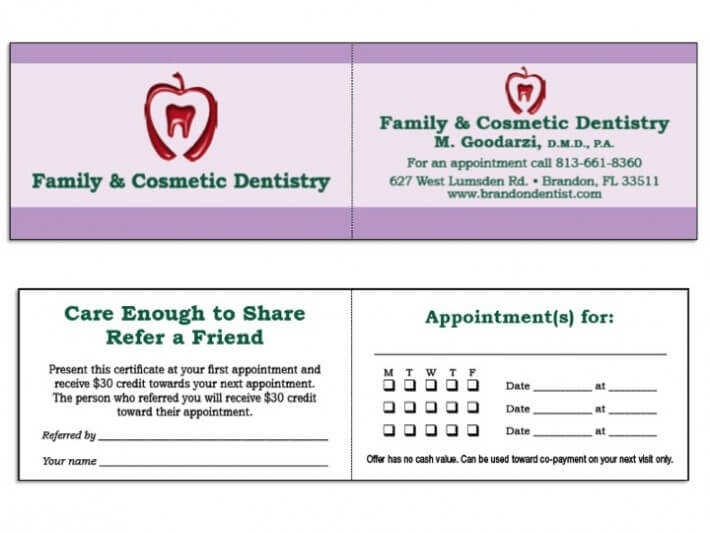 A business card/referral card hybrid from a dentist, which also features an appointment tracker.
4. Referral newsletters
You can also distribute your referral card through a newsletter. Newsletters are a perfect avenue for referrals, as they are sent directly to the recipient and keep your brand on top of mind.
Aside from promoting your program, a newsletter needs to provide value to the reader and deliver content in an interesting way. For example, your newsletter could include industry insights and tips specific to your business. You can also include a section recognizing customers with the most referrals or any seasonal promotions for your program.
5. Community referral cards
Why not use your referral card to support community or nonprofit causes? Ask your customers to refer a friend, with a promise to donate to a worthy cause for every successful referral. Adding a humanitarian aspect to the referral can encourage customers to make more referrals, while also aiding a good cause. Include the organization's brand and information to the referral card so recipients can easily see the cause you're supporting.
6. Partner referral cards
Studies show referral leads that come from partners are typically higher in quality and likely to result in a sale. If you partner with other businesses, consider printing some referral cards to leave with them or send them digital versions they can include in their emails or websites. Here are some incentive ideas to use in your partner program.
How to create a great referral card
Let's dive deeper into what makes a great referral card. Aside from including your program information, how you can create an effective referral card to keep customers engaged?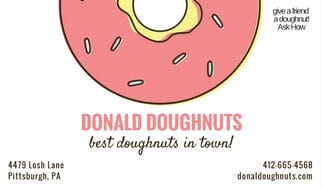 "Give a friend a doughnut! Ask how."
"Refer a friend and both of you will get 10% off your next visits"
Look at the referral card design
If you want to make your referral card stand out, you could use a different size, shape, color, and font. The standard business card is 3.5 x 2 inches. You could go slightly bigger and use a referral card that's 3.5 x 4 inches. Or, if you're handing out physical printed cards, consider using heavier card stock or one with a different texture and feel from your other collateral.
Craft your messaging elements
There are several aspects of referral messaging to consider for your referral card:
Referral card quotes or slogans
A referral card quote or slogan is a catchy phrase intended to attract people to your program. While it doesn't need to give all the details, it should grab attention and serve as the headline for your referral program. Here's a list of some good quotes to use on your referral card:
Turn this card into cash
Help us get the word out
Pass it on
It pays to have friends
Spread the word
It's who you know
It's a win-win
Sharing is caring
Friends wanted
The referral call to action
A persuasive call to action will make your referral card infinitely more effective. Call-to-action buttons or links are used to quickly tell customers what you want them to do – which is to refer a friend. It also includes what reward the customer will receive for performing that action. Here are some call-to-action examples:
Give this card to a friend – and you both get a discount
Tell your friends about us
Refer your friends. Get rewards.
Send a friend $10
Refer a friend, and you both get 20% off
Tell a friend about us, and earn $50
Make money by referring your friends
Refer and you shall receive
If you're using a referral card to get sign-ups for your referral program, simply adjust the call to action to fit your needs. In this case, your call to action might be:
Sign up for our referral program and earn $10
For every friend that signs up, you earn $20 each
The referral value proposition
Your referral card needs to have a strong referral proposition – the reason why your customers should actually give the referral card to someone else. This is more than just the offered reward, although that definitely helps. But it will be hard to get referrals unless your business has a unique value proposition. How do you solve a customer's problem? What makes you different from the competition? Adding some information about the value you provide will greatly increase the chances of your customer giving the card to others.
Consider any specific aspects
If your referral program requires people to fill out a form or sign up, remember to include the site URL on your referral card. You may even consider using a specific email address to easily track any incoming referrals. Some businesses also include a space for the customer to fill in their details, especially if there's a reward.
Referral card examples
After seeing the referral quotes and other elements listed above, you probably have a general idea of what your referral card will look like. While referral cards come in a wide variety, be sure you design a card that customers want to share. Here are some referral card examples:
Standard referral cards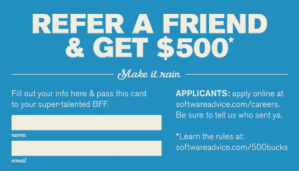 Employee application referral card from SoftwareAdvice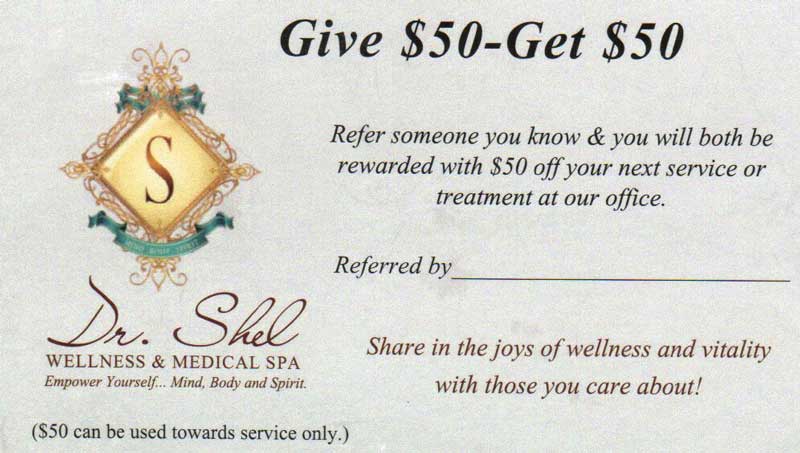 A spa referral card with $50 rewards for both referrer and friend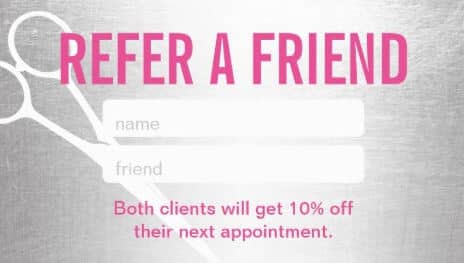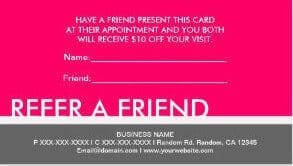 Two hairdresser referral cards that each offer a 10% discount to the member and friend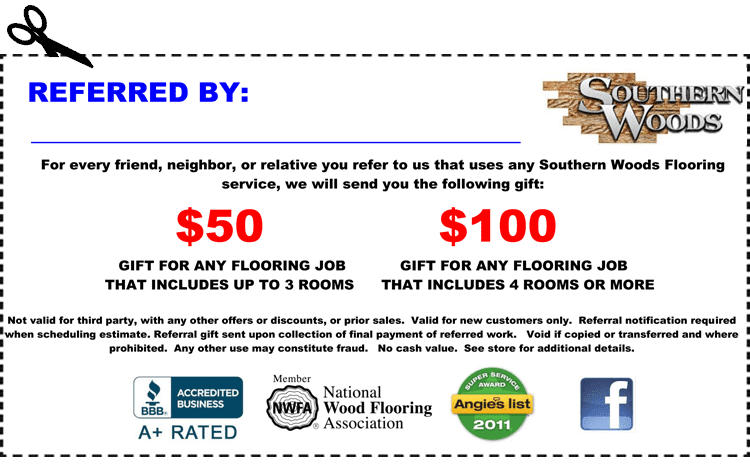 A referral card for flooring services, with two different reward levels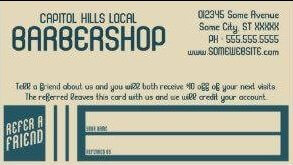 A barbershop referral card example, with a $10 appointment credit as the reward
Referral cards with sign-up forms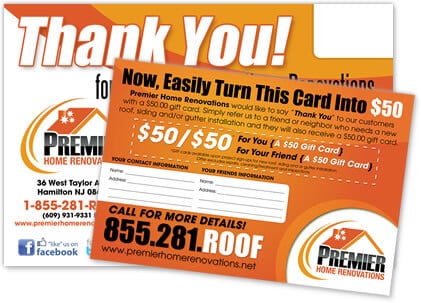 A home renovation referral card form, with a $50 reward for referrer and friend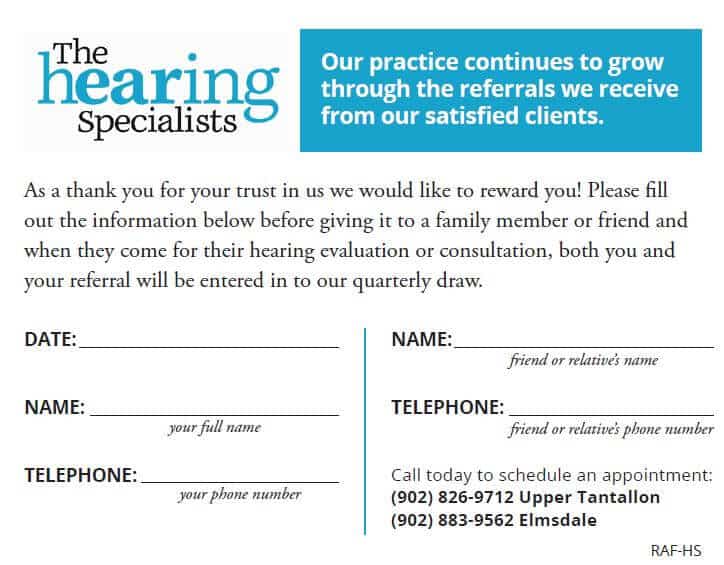 A hearing specialist referral card, including heartfelt thanks for referrals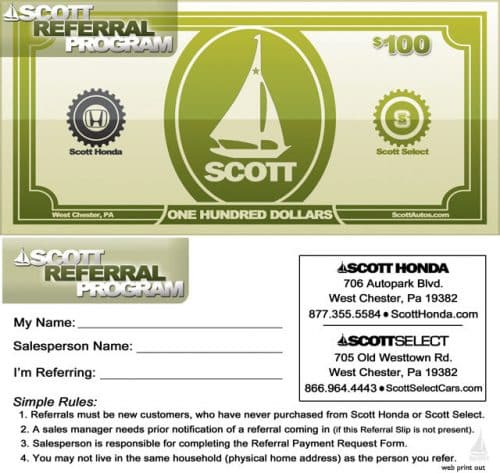 A car dealership referral card form, including simple terms and conditions
A example of a veterinarian or pet grooming referral card
If you need other ideas when designing your referral card, there are many sites you can visit. Creative Market has some good card inspiration, while other businesses like Canva, Moo, and GotPrint offer many customizable card options and an easy-to-use print service.
Referral card template
The best referral cards are convenient and contain everything you need to know. Here's a basic template you can use to create a top-notch referral card.
5 tips when using your referral cards
We've examined the different types of referral cards and provided some real-life examples your business can draw from. Before you start giving out your referral cards, here are some basic tips to remember:
Give your referral cards to customers only once you've established a relationship with them.
Timing is everything when handing out referral cards. Look for the right moment when the customer is most engaged and happy with your product or service (i.e. after making a purchase, after customer support has solved an issue).
Don't give away unnecessary referral cards.
Make it simple for your customers to give your referral card to others. For example, if you're using a referral card mailer, make sure the postage is paid so all they have to do it write their name and drop it in the mailbox.
Track the effectiveness of referral cards and keep making improvements. For example, you can run an A/B test to see whether the printed cards or online cards have a higher conversion rate.
Be sure to thank anyone who refers new customers to your business. A simple thank you email or a personal note can go a long way in making your loyal customers feel appreciated.
Key takeaways
Referral cards combine two powerful marketing approaches: referral marketing and broader word of mouth. Plus, referral cards don't need to be anything too fancy or extravagant. You can use the tips above to create a simple referral card or even add a section to your existing business card. Either way, your referral program is being promoted, which can already increase the chances of growing your market.