Google Analytics
Why Marketers Should Care About the Behavior Category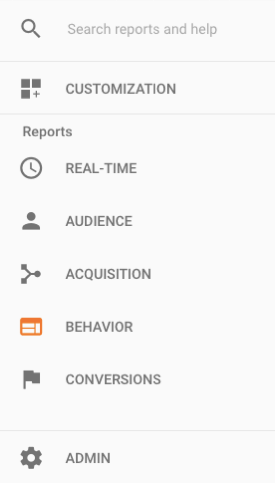 In Google Analytics, the Behavior category is one of five main categories that you find on the left-hand sidebar. Andy says the categories are organized from the top of the funnel down to the bottom. The first category is Real-Time, or people on your website at the moment. Real-Time is followed by Audience (who those people are), Acquisition (where they came from), Behavior (what they did), and Conversions (who took which successful profitable action).
People dedicate a lot of time to the Behavior category because the reports show what's happening on each URL and how people flow through your website. Andy says you can see where people go, how much time they spend on pages, bounce rate, percentage of people who leave after seeing just one page, number of pages per visit, and so on. The Behavior category is the core of Google Analytics reporting.
What you find through Behavior reports is often surprising, Andy continues. Although a website is designed to encourage visitors to navigate through it in certain ways, the Behavior reports show how visitors actually move through your site.
Listen to the show to hear an explanation of the value of behavior analytics with a restaurant analogy.
Behavior Flow Report
Andy believes Behavior Flow is an interesting and sometimes confusing report because it mashes up data from other reports. The Behavior Flow report looks almost like an infographic. It shows how many people are on your website, where they move as they navigate from page to page, and the page where they leave your site. After the starting page, the next column is first interaction, the column after that is second interaction, and so on.
Behavior Flow shows the most popular path through your website, which is important. Knowing the most common path helps you prioritize changes to your website. For example, if you have only 10 minutes to work on your website this week, you need to spend that time on the pages people visit most often. Even if your website has thousands of pages, a small percentage of those pages receive the most traction and traffic.
Therefore, when you have a great piece of content such as a beautiful testimonial or a compelling visual, you want to put it where people are more likely to see it. If your website was a city with a highway flowing through it, you'd put your billboards on the highways, not on little backstreets.
In the Behavior Flow report, the first column is the Landing Page option, which reflects where your website traffic comes from. You can change the default Landing Page option to see the website traffic from a specific source. For example, you can select social options to see how people coming from different social networks move through your site.

Next, you see the Starting Pages column. Andy says this column lists only the top pages. (For analysis of a specific page, you need to look at the Site Content reports.) Each page (URL) is a green box. Next to the green box is a red line with a downward-pointing arrow. The red line shows how many people left from the page. Hover over the red line to see the number. If people continue to another page, a little gray line connects the starting page to the next visited page. With these gray lines, you can see at a glance the highway going through your city of a website.
When you click a green box, you can select an option that highlights the traffic through that web page. For example, Andy can see that people who visit his article Website Best Practices tend to go back to the blog's main page. From there, a percentage goes to the website's homepage.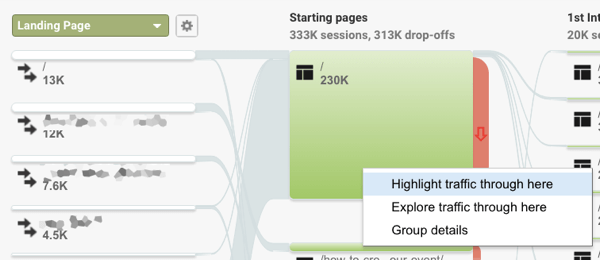 Andy says you don't need to spend a lot of time analyzing behavior flow. With this report, your goal is to develop a good sense of the major paths through your website.
Listen to the show to discover what I learned about a specific Social Media Examiner article by analyzing the flow.
Site Content Reports
Andy says the All Pages report is one of the most important reports in Google Analytics. To see this report, select the Behavior category and then Site Content. You'll find the All Pages report under Site Content.
The All Pages report lists every URL on your website, so this report enables you to see the behavior flow for any page. Scroll through the list to find a post or use the search feature. By default, you see 10 pages at a time, but you can choose to view more per page. Andy is looking at a blog post called Ways to Improve Your Website.
After you find the post you want to analyze, Andy suggests looking at the Navigation Summary tab. (You'll find two tabs right above a post's trend line: the Explorer tab appears by default and the other tab is Navigation Summary.)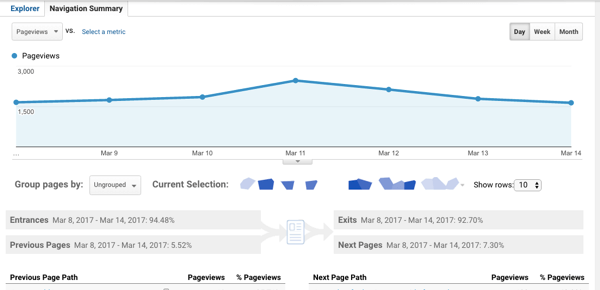 Andy says the Navigation Summary is powerful because you see the page on your website that led visitors to your selected page and the web page on your site that people visited next. After you view the Navigation Summary for a page, Andy says you can analyze how that page is working. Start with your home page to see which items in the main navigation are clicked most and least, and develop ideas about how to optimize your visitors' experience.
Andy says you need to be able to look at something and say, "This is working. Can I make it work even better?" or "This isn't working. Can I either improve it or just remove it?" For instance, say you have a giant orange call to action on your site and no one is clicking it. You'd likely determine that something about the call to action needs to change. You could add white space around it, change the button text to indicate a benefit, or try a different call to action.
Andy says you should also consider removing items that people don't click because removing an item makes everything that's left more visually prominent. If you have something that's visually loud and you can tell from the Navigation Summary that no one is clicking it, consider taking it off the page. You just cleaned up the site and made everything that remains easier for visitors to find.
This data also gives you clues into what information people need in what order. For instance, Andy says you might look at Back button behavior. People who come to a page and then go back to the one before likely didn't find the answers to all of their questions. Use these insights to change the labels in your navigation, add or remove elements, change calls to action, front-load content earlier in a sales process, and more. You want to do a better job of guiding visitors through your website.
Andy also talks about the Exit Page reports, which are especially relevant to social media marketers because they often send traffic elsewhere (to a social network) for engagement. Social media marketers also blog and naturally link to other websites, resources, content, friends, partners, and allies. From this report, you can see the exit pages from most to least popular.