Do you understand how visitors convert on your blog or website?
Are you tracking conversion goals?
Knowing how visitors convert on your website can help you improve your marketing.
In this article I'll show you how to dive into Google Analytics Conversions reports so you can optimize your site for more conversions.
Locating Google Analytics Conversions Reports
The Conversions section shows you the path your customers take on your website, from the entrance to making a purchase or becoming a lead.

Conversions reports are broken into four sections. While some conversion reporting areas look similar to the standard reports you will find elsewhere in Google Analytics, many are customized to the data they represent. Each data set is based on the reporting period you define in the date range drop-down menu.
Ready to learn more about them? Let's get started with a list of terminology.
#1: Goals
The Goals Overview report gives you a quick summary of the total number of goal completions made on your website.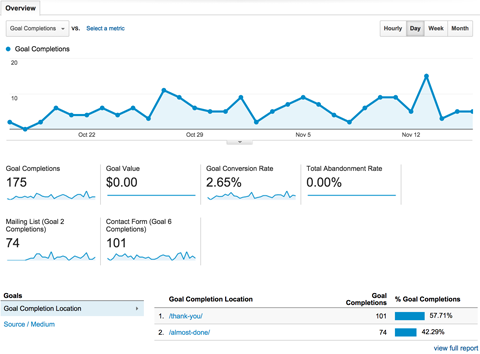 You can quickly view the pages where goal completions are made or click the Source/Medium link to see where converting traffic originates. To dig deeper, you can click through the following detailed reports.
Goal URLs
The Goal URLs report shows the URLs on your website where visitors convert. If you use the Destination goal type, this is the URL visitors land upon once a goal has been completed, such as a thank-you or confirmation page.
To find out which pages on your website lead to the most conversions, use the Secondary Dimension drop-down and select Goal Previous Step – 1. The goal URL report will then display the page a visitor was on before landing on the Destination URL.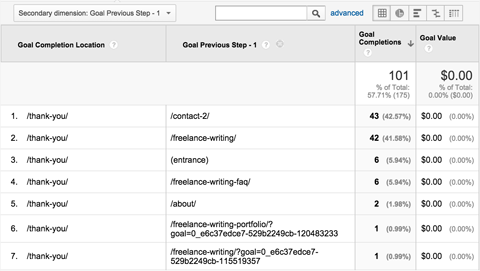 Reverse Goal Path
The Reverse Goal Path report displays up to four steps in the goal completion journey. In the example below, you can see that some people started on the home page (represented by the /), submitted a contact form from the freelance-writing and contact-2 pages and landed on the thank-you page to complete the goal.

This report shows you two things. First, it shows you the most popular pathways people take to complete a goal on your website. Second, it shows how many steps people take to complete a goal.
For example, the majority of people who complete a goal only go through three pages at maximum, from entrance to completion. If this is the case, you may want to shorten other pathways through your website to get people to the goal faster.
Funnel Visualizations
If you set up your Destination goal to track multiple steps in the conversion process, you will be able to see the steps your visitors take in the Funnel Visualization. If you setup a Destination goal with one URL, your funnel will look like this.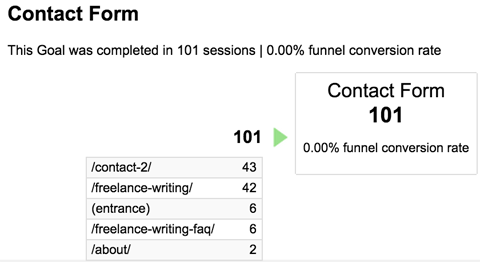 Funnel visualization is critical for those sites with multiple steps in the goal completion process. You can find out where in the conversion process people drop out before making a purchase.
If you set up multiple steps, such as those a visitor experiences with a shopping cart, your funnel will look like this.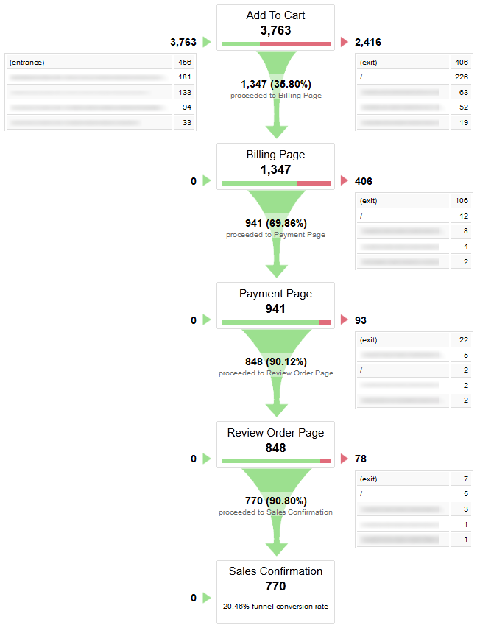 In the example above, only 35% of people who add a product to their shopping cart continue on to make a purchase. This means that you should work on optimizing that part of the sales process to increase conversions.
Goal Flow Visualization
The Goal Flow displays the goal completion paths of visitors in a flowchart.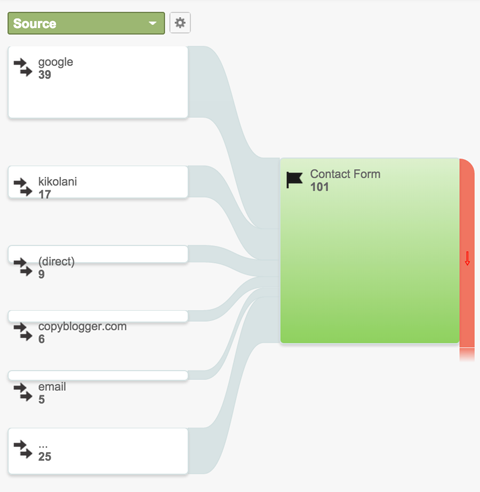 You can use the drop-down to show traffic sources and other dimensions that drive visitors who complete a goal.
#2: Ecommerce
For businesses that sell products through an ecommerce shopping system, Ecommerce reports will give you insights into your shoppers' journey from entry to conversion. You must specifically set up ecommerce tracking to use these reports.
Ecommerce Overview
The Ecommerce Overview report summarizes your ecommerce conversion rate, transactions, revenue, average order value, unique purchases and the quantity of product units sold.
Beneath the main graph, you can see data about your top revenue sources—products, product SKUs, product categories and traffic sources.
You can also click through to the following detailed reports.